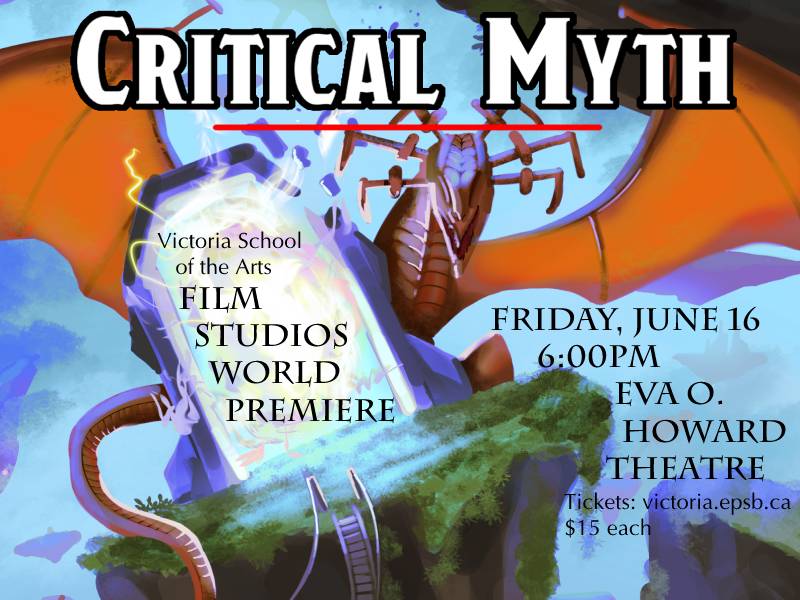 A chance to dress up and be part of a red carpet Movie Premiere! This year we have three women Directed films being presented: the Fantasy short film Critical Myth, a Behind the Scenes Documentary on the Making of Critical Myth, and a special presentation of the Feature Film comedy Picture It, filmed in cooperation between the non-profit initiative "Girls in Film and TV" and Victoria School of the Arts Film Studios. Our Film and Media Students work hard all year to create original films from writing to planning to designing, then onto building sets, props, costumes, and make-up, working and filming as a full 80 person crew with 40 actors and further months of post-production, animation, and music composing.
Schedule
5:40pm Red Carpet Instagram pictures with the cast, crew, props, set, and costumes from the films. Water and candy for sale to benefit the Stollery Children's Hospital.

6:00pm Treaty Acknowledgment and Introduction to all three of the films from the student hosts.

6:10pm Behind the Scenes Documentary on the

Making of Critical Myth.

6:30pm World Premiere Screening of the short film

Critical Myth.

7:00pm Girls in Film and TV Screening of the feature film

Picture It.

8:15pm Additional pictures in the Lobby after the show.
Critical Myth
Fantasy Role-Playing meets High School in this comedy short film written in mythic structure as we see our young heroes face not just foes, but also their own personal limitations. Follow a group of D&D&D players who now must face their most challenging campaign: a day in High School! This film combines live action footage with animatic scenes.
The Making of Critical Myth
Students who sign up for Victoria School of the Arts Film Studios each year have an immersive experience working in the same collaborative structure and roles as big professional film sets. This documentary showcases the awesome behind-the-scenes work that goes into making a film: from designing and building costumes and props and sets, training actors in film performance, to getting crews organized and trained in lighting, sound, make-up, assistant directing, and cinema camera packages (Victoria School is sponsored by the Munich camera company ARRI, and we are the only K-12 school in the world running ARRI Alexas cinema cameras, the same ones used on most of the world's film sets). This documentary was also made by students and they are proud to reveal all their hard work!
Picture It!
Produced as part of Girls in Film and TV's (GIFT) Feature Film Program and with a cast and crew that is a combination of industry professionals, GIFT students from across the city, and students from Victoria School of the Arts.
Mya is a talented and determined teen who's got her future all mapped out, just not in the traditional sense. Mya has Aphantasia, a condition of the mind that means she isn't able to visualize. Of course, that hasn't stopped her from pursuing the visual arts, and her drawing skills have come in handy to document her memories. Her friend Vic finds a sketch Mya made of her holding hands with the cutest boy in the school, Cliff, and in a sweeping gesture of misplaced goodwill, puts it in his locker. So Mya enlists her friends to help her break into and navigate the near-empty school after hours to retrieve the sketch from Cliff's locker. Mya must avoid the mysterious after-hours shenanigans of Principal Hutchins, and the patrolling menace of school constable, Officer Todd.
Picture It is a fast paced and quirky tribute to the power of friendship and learning to see outside yourself to understand the big picture. https://www.girlsinfilmtv.com/picture-it